Morelife Wheat Grass Powder
SKU:
NZ$69.69
NZ$59.00
NZ$59.00
Unavailable
Morelife Alkalising Wheat Grass Certified Organic 1kg net fine powder.

Morelife Wheat Grass is organically grown in a natural environment, without the use of synthetic and artificial chemicals, pesticides or fertilisers and is certified organic by the Biological Farmers of Australia.

It is thought that our typical diet needs to be more alkalising, which requires an increased intake of fruits and vegetables, especially green leafy varieties such as wheat grass. Wheat grass can help you shift from an acid state to an alkaline state, which can result in improved wellness.

Suggested use:
Adults - Mix 1-2 tsp of Wheat Grass Powder into juices, smoothies, salad dressing or other food.
Children - 1/2 to 1tsp daily.

Servings per packet - 667
Powered by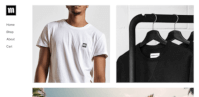 Create your own unique website with customizable templates.